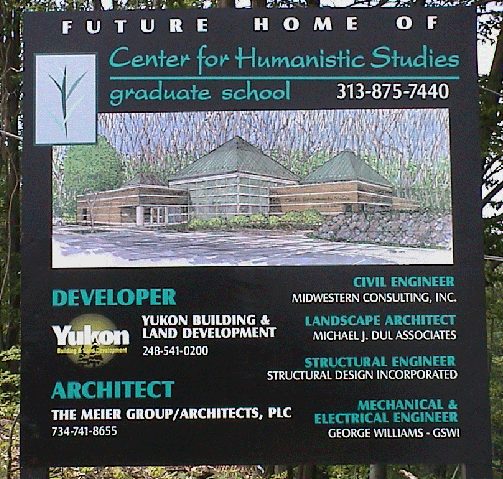 Center for Humanistic Studies - Farmington Hills, Michigan
HEATING, VENTILATING & AIR-CONDITIONING SYSTEM:
The heating ventilating and air conditioning system for the facility is handled with two, AAON Rooftop units with a combined air flow of 16,100 CFM and 50 tons combined refrigeration cooling. The roof top units are provided with a combined natural gas pre-heat capability of 780,000 BTUH (British Thermal Unit). The space temperature of the facility is handled by 20 VAV (Variable Air Volume) terminal units with reheat coils. The hydronic heating for the facility is generated by one Lochinvar boiler of 614,000 BTUH output.
POWER:
The facility is handled by a 800 AMP, 120/208 volt three phase, 4 wire switch board. The power and lighting for the facility is being handled by one lighting and two power panels located, in the Electrical Room.
LIGHTING:
The large atrium features indirect quartz halogen clusters with aircraft cable suspension, bordered by a recessed parabolic flourescent strip over the surrounding walkway. The classroom, computer lab and library areas utilize Direct/Indirect lighting through suspended linear fluorescent light fixtures. The offices feature 2x4 large cell parabolic troffers
DATA AND COMMUNICATION:
The facility is equipped with state-of-the-art data and communication capability, with the ability of network internet connections. The system utilizes "walker duct" underfloor distribution to link workstations in the training room to a central network computer.