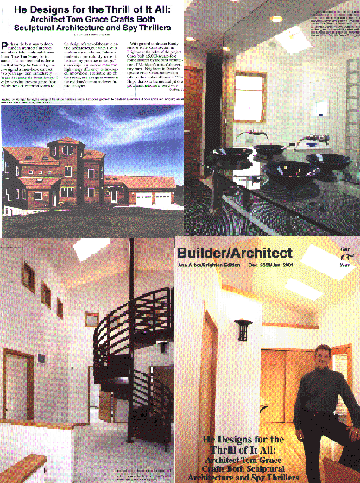 Grace Residence located in Dexter, Michigan
HEATING, VENTILATING & AIR-CONDITIONING SYSTEM:
This is a residence for Tom and Kathleen Grace. Tom Grace is an Architect and a writer of best seller thrillers such as "Spyder Web", "Quantum" and several others. The heating ventilating and air conditioning system for this residence is handled with three ground source heat pumps with a combined air flow of 3,800 CFM and 10 tons of combined refrigeration cooling. The combined heating capacity of the heat pumps is 105,000 BTUH (British Thermal Unit). The space temperature of the facility is being handled by programmable space thermostats located in the space served by each unit. The required 16 gpm of condenser water is being handled by a dedicated well.
POWER:
The facility is handled by a 800 AMP, 120/240 volt single phase, 3 wire switch board. The power and lighting for the facility is being handled by two lighting panels and three power panels located in the Electrical Room.
LIGHTING:
The lighting system for the majority of the house was handled by Owner furnished fixtures
DATA AND COMMUNICATION:
This high end residence is equipped with state-of-the-art data and communication capability with internet and networking capability.