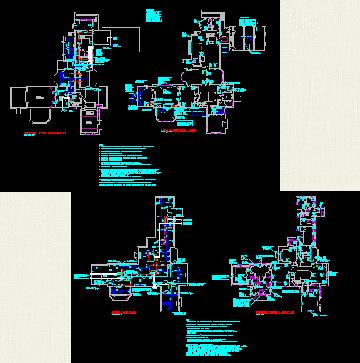 Manoogian Residence located in Grosse Point Farms, Michigan
AIR-CONDITIONING SYSTEM:
The heating ventilating and air conditioning system for the facility is handled with two, Space Pak and seven, Magic Aire Air Handling units with a combined air flow of 10,300 CFM and 26 tons combined refrigeration cooling. The Air Handlers are provided with a combined htdronic heating capability of 225,000 BTUH (British Thermal Unit)s. The space temperature of the facility is being handled by direct digital control system with programmable space sensors located in the space served by each air handling unit. The existing hydronic heating system was not.
POWER:
Because the existing capacity was sufficient enough to handle the added electrical load, upgrading the entire system was not required. Two new power panels were added to handle distribution to the new and renovated building areas and new mechanical equipment.
LIGHTING:
The lighting system was primarily owner furnished. Recessed down lights were installed in the main stairway. Recessed eyeball accent fixtures were added in the Modify Gallery. Decorative wall sconces were used in the first floor sitting room.