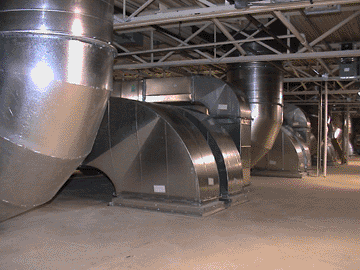 Roush Dynamometer Test Lab Livonia, Michigan
HEATING, VENTILATING & AIR-CONDITIONING SYSTEM:
The project consist of seven dynamometer test cells. Each test cell is provided with a dedicated supply and exhaust fan with variable frequence drives. The combined supply for the facility is 146,500 CFM. Equal amount of exhaust air is provided with dedicated fans. The catalatic converter of each engine is routed through dedicated room and each of these rooms are provided with exhaust fans of 5000 CFM capacity. The exhaust fans are controlled by thermostat located in each room.
The support areas are handled with a 10 ton Carrier Roof Top heating and cooling unit.