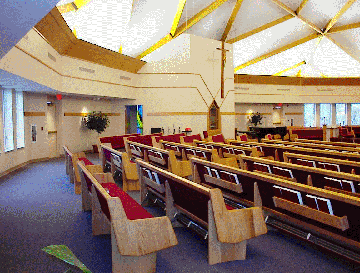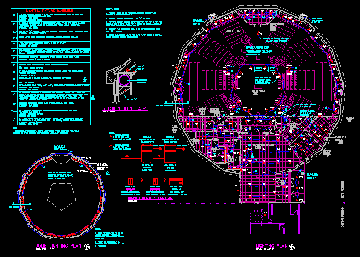 St Simon and Jude Catholic Church located in Westland, Michigan
HEATING, VENTILATING & AIR-CONDITIONING SYSTEM:
The heating ventilating and air conditioning system for the facility is handled with two Trane units with a combined air flow of 17,000 CFM and 73 tons combined refrigeration cooling. The Air Handlers are provided with a combined natural gas heating capability of 265,000 BTUH (British Thermal Unit). The space temperature of the facility is being handled by programmable space thermostats located in the space served by each unit.
POWER:
This worship space addition was provided with a new 1,000 AMP, 480/277 volt, 3 phase, 4 wire main switch board. A 400AS/250SF sub-feeds the existing system. One distribution panel extends power to the new mechanical equipment and electrical panels.
LIGHTING:
Two dimming panels control the lighting system for the worship space. This is a perimeter soffit with incandescent wallwashing downlights and an upper cove lined with 70-900W quartz halogen fixtures reflecting light on the geometric dome ceiling. The dimming system in controlled by both wall and remote type controls. At the peak of the dome is windowed cupola lined with dual switched up/down quartz cylinders for both highlighting the center altar and uplighting the cupola at night. The support areas utilize mainly 2x4 fluorescent fixtures recessed in a suspended grid ceiling, with compact fluorescent recessed downlights in the gathering space and entry areas. Two new parking areas added metal halide light poles for pathway and security lighting.